As beauty freed is set a fluttering, I like butterflies long to be
K. D'Angelo
Swallowtails (Family Papilionidae)
Swallowtail butterflies are large, colorful butterflies in the family Papilionidae, and include over 550 species. Though the majority are tropical, members of the family inhabit every continent except Antarctica. The family includes the largest butterflies in the world, the birdwing butterflies of the genus Ornithoptera.
Swallowtails have a number of distinctive features; for example, the papilionid caterpillar bears a repugnatorial organ called the osmeterium on its prothorax. The osmeterium normally remains hidden, but when threatened, the larva turns it outward through a transverse dorsal groove by inflating it with fluid. 
The forked appearance in some of the swallowtails' hindwings, which can be seen when the butterfly is resting with its wings spread, gave rise to the common name swallowtail.
As for its formal name, Linnaeus chose Papilio for the type genus, as papilio is Latin for "butterfly". For the specific epithets of the genus, Linnaeus applied the names of Greek figures to the swallowtails. The type species: Papilio machaon honored Machaon, one of the sons of Asclepius, mentioned in the Iliad.[3] Further, the species Papilio homerus is named after the Greek poet, Homer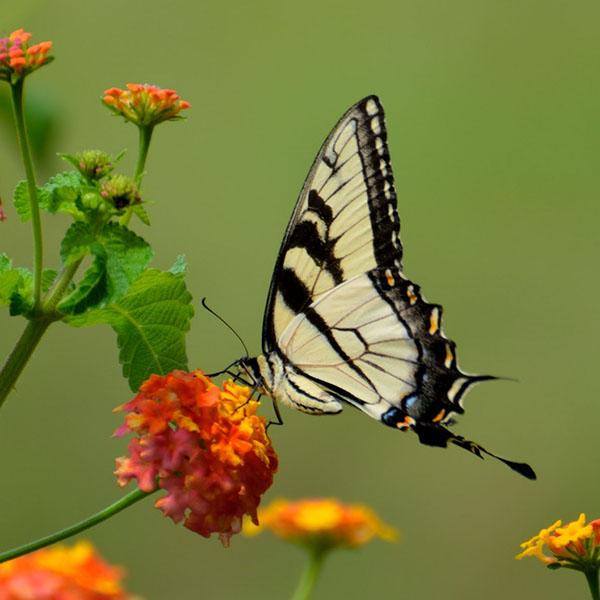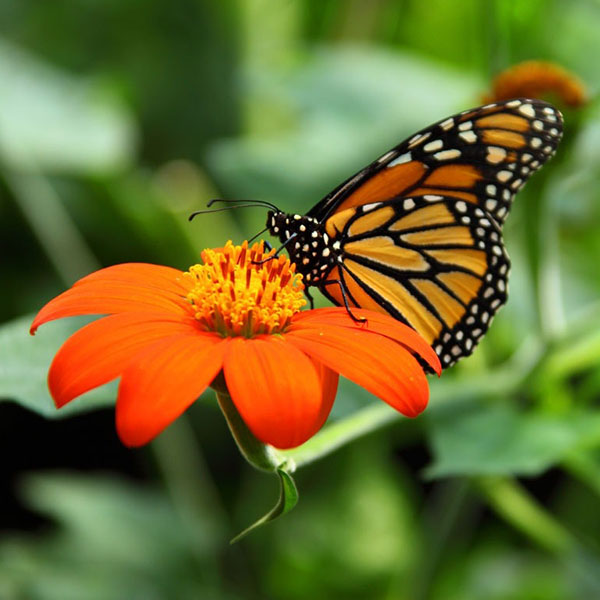 Brush-Footed Butterflies (Family Nymphalidae)
The Nymphalidae are the largest family of butterflies with more than 6,000 species distributed throughout most of the world, belonging to the superfamily Papilionoidea.
These are usually medium-sized to large butterflies. Most species have a reduced pair of forelegs and many hold their colourful wings flat when resting. They are also called brush-footed butterflies or four-footed butterflies, because they are known to stand on only four legs while the other two are curled up; in some species, these forelegs have a brush-like set of hairs, which gives this family its other common name.
Many species are brightly coloured and include popular species such as the emperors, monarch butterfly, admirals, tortoiseshells, and fritillaries. However, the under wings are, in contrast, often dull and in some species look remarkably like dead leaves, or are much paler, producing a cryptic effect that helps the butterflies blend into their surroundings.
Whites and Sulphurs (Family Pieridae)
The Pieridae are a large family of butterflies with about 76 genera containing about 1,100 species, mostly from tropical Africa and tropical Asia with some varieties in the more northern regions of North America.
Most pierid butterflies are white, yellow, or orange in coloration, often with black spots. The pigments that give the distinct coloring to these butterflies are derived from waste products in the body and are a characteristic of this family.
The name "butterfly" is believed to have originated from a member of this family, the brimstone, Gonepteryx rhamni, which was called the "butter-coloured fly" by early British naturalists.
The sexes usually differ, often in the pattern or number of the black markings. 
The caterpillars of a few of these species, such as Pieris brassicae and Pieris rapae, commonly seen in gardens, feed on brassicas, and are notorious agricultural pests.
Males of many species exhibit gregarious mud-puddling behavior when they may imbibe salts from moist soils.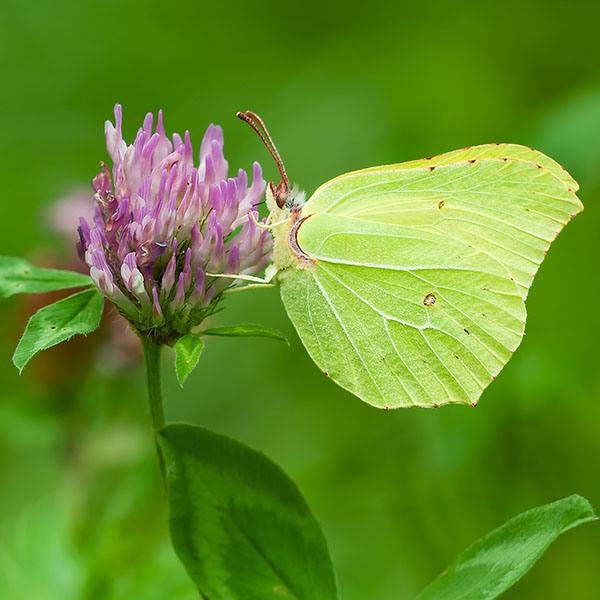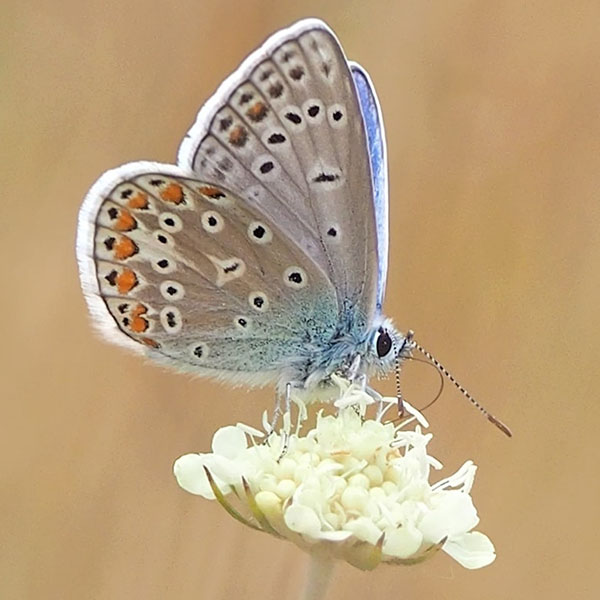 Gossamer-winged Butterflies (Family Lycaenidae)
Lycaenidae is the second-largest family of butterflies (behind Nymphalidae, brush-footed butterflies), with over 6,000 species worldwide, whose members are also called gossamer-winged butterflies.
They constitute about 30% of the known butterfly species.oils. Adults are small, under 5 cm usually, and brightly coloured, sometimes with a metallic gloss.
Caterpillars are often flattened rather than cylindrical, with glands that may produce secretions that attract and subdue ants. Their cuticles tend to be thickened. Some caterpillars are capable of producing vibrations and low sounds that are transmitted through the substrates they inhabit. They use these sounds to communicate and maintain simbi0tic relationships with ants.
Adult individuals often have hairy antenna-like tails complete with black and white annulated (ringed) appearance. Many species also have a spot at the base of the tail and some turn around upon landing to confuse potential predators from recognizing the true head orientation. This causes predators to approach from the true head end resulting in early visual detection.
Metalmarks (Family Riodinidae)
 Riodinidae is the family of metalmark butterflies. The common name "metalmarks" refers to the small, metallic-looking spots commonly found on their wings.
The 1532 species are placed in 146 genera. Although mostly Neotropical in distribution, the family is also represented both in the Nearctic and the Palearctic.
The family includes small to medium-sized species, from 12 to 60 mm wingspan, often with vibrant structural colouring. The wing shape is very different within the family. They may resemble butterflies in other groups, some are similar to Satyrinae, some are bright yellow reminiscent of Coliadinae and others have tails as do Papilionidae.
The colouration ranges from muted colours in the temperate zone species to iridescent blue and green wings and transparent wings in tropical species.
The golden or silvery metallic spots on the wings in many species of the Americas gave them the English common name "metalmarks".
A number of species mimic poisonous moths of several families and there are often extensive mimicry rings of similar-looking species, grouped around a model.
Many species mimic the stain and stripe pattern of toxic Nymphalidae. Batesian mimicry seems to be more common than in any other insect family of similar size.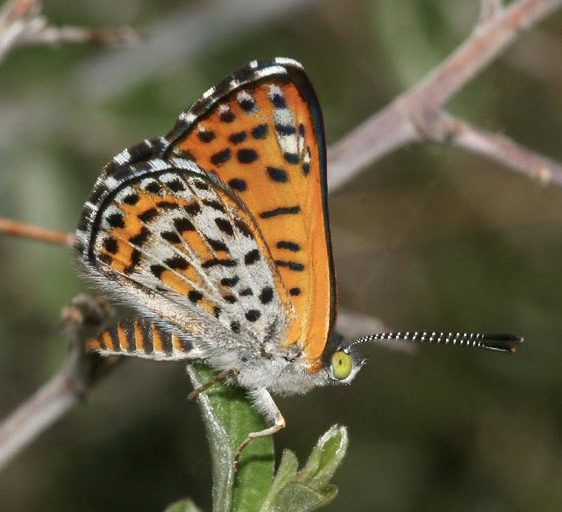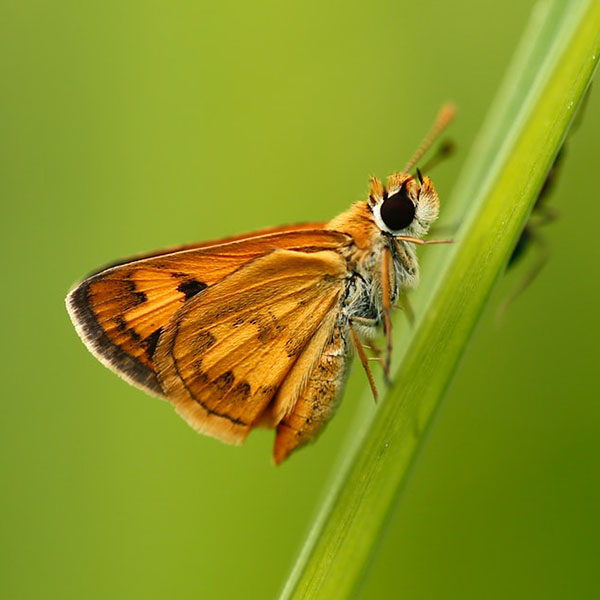 Skippers (Family Hesperiidae)
 Skippers are a family, the Hesperiidae, of the Lepidoptera (moths and butterflies). Being diurnal, they are generally called butterflies.
They are named for their quick, darting flight habits. Most have their antenna tips modified into narrow, hook-like projections. More than 3500 species of skippers are recognized, and they occur worldwide, but with the greatest diversity in the Neotropical regions of Central and South America.
Collectively, these three groups of butterflies share many characteristics, especially in the egg, caterpillar and chrysalis stages. However, skippers have the antennae clubs hooked backward like a crochet hook, while the typical butterflies have club-like tips to their antennae, and moth-butterflies have feathered or comb-shaped antennae similar to moths.
Skippers also have generally stockier bodies and larger compound eyes than the other two groups, with stronger wing muscles in the plump thorax, in this resembling many moths more than the other two butterfly lineages do.
Their wings are usually small in proportion to their bodies. Some have larger wings, but only rarely as large in proportion to the body as in other butterflies. When at rest, skippers keep their wings usually angled upwards or spread out, and only rarely fold them up completely.